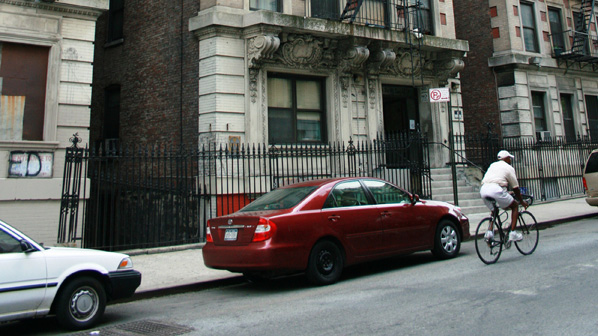 The field of community development is at an inflection point, poised to achieve scale, impact, and integration of the many lessons learned over the past 40 years. It is on the threshold of entering a new phase capable of meeting the twin goals of revitalizing low-income neighborhoods and narrowing achievement gaps of the poor. The field is well positioned to enter this more productive phase as a result of decades of capacity and network building, creating partnerships with private capital providers and public stakeholders, success in innovating with new programs and attracting private capital, and drawing on lessons learned about what approaches work best to produce the strongest outcomes. However, significant challenges lie ahead. These challenges range from the battle for resources to the need to devise cost-effective ways of measuring social impact, from promoting greater cooperation among key private stakeholders to forging new public-private-philanthropic partnerships, and from nurturing smaller innovative community developers to consolidating organizations when it is in the best interest of the community.
The Opportunity
There are significant opportunities for community builders, community capital providers, and their private capital partners to leverage public investment in low-income communities. For example, $16 billion in new social investment will be needed to support community health centers as an outgrowth of health care reform.1 Annually, $1.5 billion in social capital investment will be needed to support high-performing, community-based charter schools, with community development financial institutions (CDFIs) likely to provide about $250 million of this each year.2
In addition, billions of dollars will be available to support transit systems over the next decade, and more may flow to transit-oriented development (TOD) as the value becomes more apparent of linking low-income people to jobs. TOD planning efforts are underway in cities from Seattle to Boston to Atlanta. Further, despite threats to the federal housing budget and tax incentives, billions of dollars of investment annually will likely be deployed to preserve and add to the nation's affordable housing stock. In short, the scale and opportunity for capital investment over the next decade is vast.
Such investment will create jobs and potentially serve as engines of economic vitality for distressed communities. Community developers, CDFIs, and private capital providers will need to work with public stakeholders to invest at scale in America's communities over the next decade. But budget constraints combined with the demands of resource providers will mean that investments will have to show impact and social return for the dollar.
CDFIs are playing a new and important role aggregating capital from private sources while leveraging philanthropic funding and government programs. Numbering nearly 1,0003 and with well over $25 billion in assets,4 CDFIs are deploying large sums of capital and in ways that are bringing the promise of integrated community development closer to hand. Many have demonstrated their capacity to generate operating surpluses while achieving meaningful social outcomes even in the midst of a severe economic downturn. As a result, the capitalization of CDFIs has been on a steep climb and may be on the threshold of even more dramatic increases.
Finally, and as we discuss below, promising new approaches are emerging with common elements that could lead toward more systemic and meaningful community impact. These approaches integrate place- and people-based strategies, aim for transformative neighborhood change, and work in creative partnerships to drive results and improve the ecosystem that supports community development.
Emergence of Promising Models With Common Elements
Promising models are emerging that take a more integrated approach to community development and measure impact. These include the Building Sustainable Communities initiative, the activities of NEXT Award winners, and the Integration Initiative, as well as the Harlem Children's Zone and Purpose Built Communities being led by community developers. Other organizations historically focusing on people-based programs, like Neighborhood Centers, Inc. (NCI) in Houston, are in turn recognizing the importance of place-based investments and entering this sphere with large, concentrated, and quality investments. Many community developers, as well as housing authorities are also coming together with for-profit firms like McCormick Baron Salazar, Jonathan Rose Companies, and the Integral Group to deliver large-scale redevelopments.
All these examples share certain common elements:
All leverage private capital in new and important ways.
All are aimed at integrating people-based and place-based strategies within a master vision.
All are directed toward closing the achievement gap in education.
All are linked by a belief in measuring outcomes and directing resources toward what works.
Most aim, in addition, to support small businesses and improve access to jobs that pay a living wage.
The field has made great strides but it is still striving to turn one-off successes into more replicable and scalable strategies to create systemic change.
Fortunately, the contours of effective strategies are coming into view as evidence mounts of the importance of combining interventions that develop human capital (through strategies such as early childhood interventions and social services) with placed-based interventions (such as developing and preserving affordable housing and developing commercial space, community centers, health clinics, child care centers, and charter schools). This more holistic approach holds out hope for closing the gaps in achievement and well-being that hurt the poor. At the same time, effective strategies will differ from place to place, as will the initial steps towards a holistic strategy.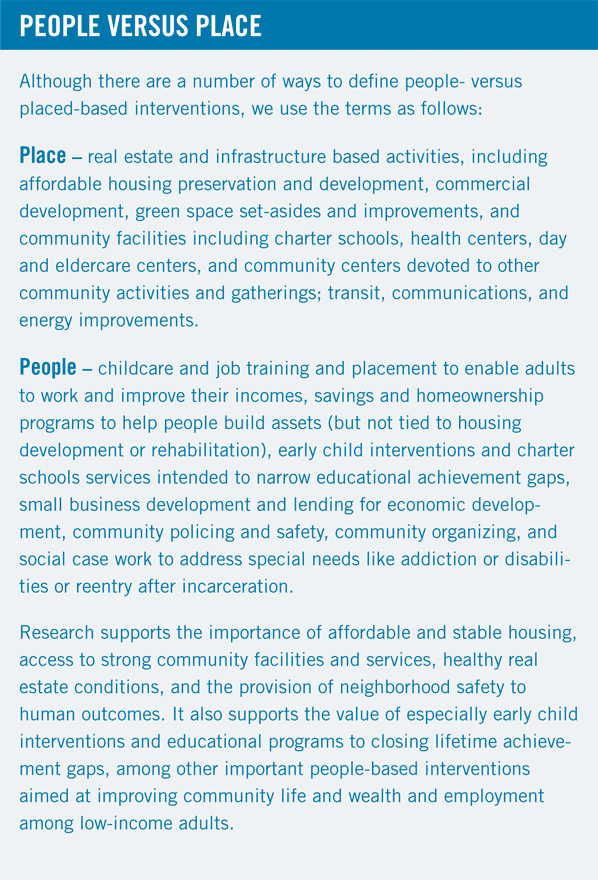 The Case for Integrated, Results-Based Approaches
As far back as the reform movement of the late 1800s and early 1900s, reformers working in poor communities understood that poverty had many causes and that meaningful progress demanded tackling several causes simultaneously. Beginning in the 1960s, the architects of the Model Cities program wanted to take a comprehensive approach to community development. Over the following decades other earnest efforts sought the same goals. Evaluations of these efforts, however, generally found them wanting.5 They often foundered because one or more elements of an ambitious strategy failed to fall into place, funding for one or more elements was not secured, or organizations others depended on faltered.
But the field has never given up on the goal of a more holistic approach, or at least on the idea that it is important to place individual actions in a broader vision of what it takes to bring about meaningful community development. This impulse is increasingly finding expression in efforts to attend to human capital as well as the affordable housing needs of individuals and other real estate development needs of a community. Community-based organizations—from the Crittenton Women's Union and its effort to help lift women out of poverty through job training, child care, and housing, to the more well known Harlem Children's Zone (discussed below)—are striving to treat the multiple needs of their clients even as they try to improve the physical conditions and facilities in their neighborhoods.6
Foundations and national intermediaries have also been pushing to promote more holistic efforts to address the needs of poor communities and their residents through initiatives like Annie E. Casey Foundation's Rebuilding Communities Initiative, Enterprise Community Partners' Neighborhood Transformation Initiative, the Ford Foundation's Neighborhood and Family Initiative, Living Cities' Integration Initiative, and the Local Initiative Support Corporation's (LISC) Building Sustainable Communities Initiative. Indeed, a continued effort to bring about transformative change through multisectoral interventions is apparent.
The push to pay more attention to human outcomes while attending to physical and economic revitalization of communities has gathered momentum. Since the 1970s, many community developers have focused their attention on place-based housing strategies, working to transform vacant lots and abandoned properties by repairing and rehabilitating dilapidated housing and constructing new affordable units.7 This remains important work: community developers have been willing to make investments in rundown, poverty-stricken neighborhoods and in housing for hard-to-serve residents that others might ignore. Without community developers and their continued efforts to not only revitalize this housing stock but prove the investment potential of these neighborhoods, the cycle of disinvestment in these areas would be harder to break.