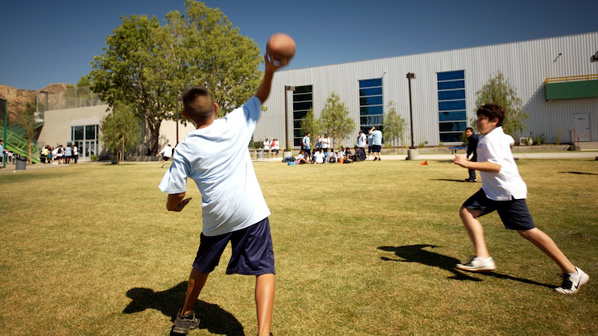 What does it cost to build a great society? More pointedly, what does it cost to lose a great society? Since the War on Poverty began almost 50 years ago, investments in America's communities have spurred those questions. Today we face a society more unequal than at any time since the Great Depression: almost every person knows at least one family member, neighbor, or friend in danger of losing a home, and the number of people living in poverty has grown by half in a decade. Today, a child's ZIP code is one of the most powerful predictors of her future life—health, education, longevity. As Federal Reserve Chairman Ben Bernanke has warned, "income inequality is a very bad development. It's creating two societies…. It leads to…a society that doesn't have the cohesion we'd like to see."1
So these questions rise to a new urgency.
Civil, social, and political justice is entwined in the persistence of poverty. We cannot speak of a just society when an individual's birthplace determines whether he or she will thrive. If the United States intends to remain the most prosperous economy in the world, we can no longer afford to see 20 percent of our children ill-housed and poorly educated. We can no longer afford an achievement gap estimated at $1–2 trillion annually and between 9 percent and 13 percent of lost gross domestic product, or what McKinsey & Company has called the "equivalent of permanent national recession."2
This book is a call to action. Our work in America's communities is at an inflection point, propelled by the magnitude of change in the world around us and the hard-won knowledge of the past five decades. This new knowledge on what works best for the people and places is at the center of our work. This book also calls for a way forward, built on a vision that integrates people and place and that champions collaborative networks of organizations with diverse expertise and ways of working that reward success.
Each chapter in this book is intended to inspire thought. We created an open forum for practitioners, policymakers, and thinkers to re-imagine community development, without constraint. Our contributors represent diverse philosophies, practice, and regions. Our goal is to create new insights about what the future should be. Above all, this book urges you, our readers, to re-imagine your work and to embrace a vision that uses and harmonizes contributions from diverse sectors across the spectrum of people and place.
STANDING ON THE SHOULDERS OF GIANTS
The American belief in community as the center of social action is special, perhaps unique in the world for its scale and scope. During the past 50 years, community developers have organized, invested, built, and nurtured renewal in the places that fell to the sidelines of our national prosperity. In the 1960s, we created an inflection point in American social policy when we asserted that neighborhoods and communities are an appropriate focal point for national policy. More than any other country, the United States has created a national delivery system of entrepreneurial local organizations, working in every state, major city, and rural area. This infrastructure is now woven into the fabric of our social response. We are a partner to the private sector, to private capital markets, and to federal, state, and local governments. Every year, this remarkable American experiment with community development delivers billions of dollars in private and public capital investments to poor neighborhoods, creating thousands of jobs, homes, schools, early learning centers, health, and recreational facilities.
In the early days of the community development movement, we knew little about what worked or what was possible. We experimented boldly. The first decade of this movement was dedicated to people power: creating energy within communities to demand fairness and opportunity. The next three decades were spent building the institutions, the partnerships, and the practices to create fairness and opportunity through an emerging network of community-based organizations, community development corporations, and the community capital movement that serves them. In this past decade, the field has achieved scale and professionalism, becoming a bona fide pillar within the American social delivery system. Our work changed many lives for the better, but more important, it generated a body of knowledge that helps us understand what works. With 50 years behind us, we now ask:
What did we get right?
What did we get wrong?
How shall we remake ourselves?
What we have learned over the past five decade calls us toward reflection. In Abraham Lincoln's words, "As our case is new, we must think anew."3 Where once we believed that economic advances within the four corners of the most distressed neighborhoods would reverse poverty, we now understand the importance of connecting communities and their residents to broader opportunities in regional economies. Where once we believed that a few powerful drivers—housing, physical, and economic revitalization—could change the life chances of the poorest Americans, we now understand that poverty is a complex swirl of forces, bathing people and places in a corrosive influence 24 hours a day, seven days a week. Single solutions by themselves will not work. Silver bullets have gone the way of the six-shooter, even though the legacy of that perspective remains in the segregated array of federal and local programs that were created to help low-income communities.
For the past decade, knowledge has emerged that shines a bright light on the people side of the equation. We have learned that often the "soft stuff" makes the biggest difference. Yet, the practice and mindset of community development remains rooted in the place-based tradition of physical and economic revitalization. The people-based side of the equation has often been accorded second-class status. We have been so drawn to the tangible, to the built environment, that we sometimes forget why we do this work. We have invested so much in the buildings within a place that we have not always remembered to invest in the people who live in them.
Now is the time for change. The knowledge revolution of the past decade teaches us that we cannot separate community-building strategies from human capital strategies. As Federal Reserve Governor Elizabeth Duke wrote in the foreword of this book, the age-old people versus place debate is over: both sides have won.
ESCAPE VELOCITY: TWENTY-FIRST CENTURY COMMUNITY DEVELOPMENT
The places where we live, learn, work, and play transform us; our communities seed our futures and we seed the future of our communities. People and place exist within a continuum of influences, changing one another over time. There is little debate that the twenty-first century is bringing change with amplitudes not seen in many decades. Economic shifts are tectonic in scale and the resulting challenges to social policy will persist for many years. We are at another inflection point in our evolution.
Forces within community development today create a push-pull dynamic that has been building for some time. We are pushed by sharp economic challenges that will limit future resources and we are pulled by an emerging knowledge revolution, where all evidence drives to the integration of people- and place-based investments. Because community development is uniquely positioned at the nexus of people and place, we can be at the center of these currents. But to remain at the center requires a renewal of our vision of social progress within America's communities, one built on models of success and accountability, on collaboration, and on networks of organizations working beneath an umbrella vision of integration, of learning, sharing, and working together. Above all, the future will require that we do more with less. We will face fiscal constraints that will increase the pressure to invest in the projects with the biggest bang for the buck.
The world will be more competitive than in the past. With only 300 million people to compete within a world of more than 7 billion people, the future prosperity of the United States rests on the skill and capability of all our people. Every person, every mind must give at his or her highest level.
The question of impact—what measurable difference did a given social investment make—looms large. Expressing our social value in terms of "return on taxpayer (or social) investment" will be vital to ensure continued public investment in community development. Answering convincingly the questions of outcomes, impact, and return on public investment will be the key to continued success. Where we traditionally described our value to society in outputs— dollars invested, homes built, jobs created— we will now be asked what these inputs add up to. What do they deliver to society at large? What is the case for ongoing investment in community development? How do we prove to the American taxpayer or the social investor that community investment delivers value for their money?
Answering these questions requires a 21st century model of community development, one that stands on the shoulders of the past, that learns from past accomplishments and one that is organized beneath the umbrella of an integrative, collaborative vision for impact.
While the idea of a comprehensive vision for community development has been around for several decades, what is new today is the knowledge revolution that sheds greater light on what works and why. The growth in scale, professionalism and excellence among community development practitioners is also new. And finally, promising new models based on accountability, like pay for success innovations and Human Capital Performance Bonds, are emerging and create a win-win for our investors, from the taxpayer to private capital. Accordingly, we believe that a renewed vision for our future investments in America's communities will rest on three pillars of practice:
Invest in what works – evidence matters
Networks of learning, flexible, adaptive organizations among sectors of practice
Scale with impact – getting the job done
We take each of these points in turn.
Integrative, collaborative vision for impact. The evidence leaves little doubt that a more holistic vision and practice is necessary to lift people and places to their potential. But, the needs of people and their communities do not fall neatly within the jurisdictional lines of Congressional committees or government funding streams. We need to cross traditional boundaries, recognizing that people and their communities require holistic solutions. This may require us to accept inconvenient truths about what works best and what doesn't work. It will require understanding the role of the regional economy and connecting to it as a source of strength for future opportunity. It will require "cross border" thinking that relies on networks of expertise and skills, striving toward a synthesized vision. And we believe that the future must be animated by a commitment to impact, to getting the job done in lifting people and places out of poverty.
Imagine the skills and expertise needed to build the space shuttle. No single discipline, no single company and no single leader could succeed in such a complex undertaking. Astronautic experts were required to work with human behavior experts; health and medical professionals were required to work with thermodynamics engineers; pilots teamed up with cosmologists. This diverse array of teammates could have produced a cacophony, rather than a functioning, magnificent machine that broke barriers and opened new chapters in space exploration. Importantly, the teams that created the space shuttle were united by a master plan that was created to realize a common vision. The vision was clear, tangible; the outcomes were clearly specified and evidence was used to measure success. How to achieve the mission was not known with certainty in the beginning. When the planners began, there was no assurance of success. In fact, the goal of creating a space shuttle was so complex that it was described as a mission not a product or a project, but a mission.
A Mission to Integrate: Already, several community development efforts in the United States are working with integrative development models. Indeed, a number of the authors in this book represent this trend, in particular, Purpose Built Communities (Shirley Franklin and David Edwards) and Neighborhood Centers, Inc. (Angela Blanchard). These organizations coordinate a consortium of disciplines across the spectrum of human and community development, with a master vision for a community and its residents.
Purpose Built Communities in Atlanta has created a holistic program that combines mixed-income housing, early learning programs, high-performing charter schools, and supportive programs for community residents. The effort is guided by an oversight body that is accountable to the community and sees its responsibility as getting the job done in improving life chances and the quality of the neighborhood. In Purpose Built's pilot site—the East Lake neighborhood in Atlanta—this cross-sectoral coordination led to a 95 percent reduction in violent crime, an almost five-fold increase in employment, and extraordinary improvement in school achievement. In 2011, 98 percent of East Lake's charter school students performed at or above grade level, compared with 30 percent in 2001.
Neighborhood Centers, Inc. (NCI) in Houston is achieving similar outcomes, also with a holistic integrated cluster of programs that range from schools to early learning to health services and has recently begun to tackle the problem of physical blight.
The Integration Initiative, Strive, Building Sustainable Communities, Choice Neighborhoods, and Promise Neighborhoods are other examples. These are relatively new approaches and a great deal remains to be learned about how to create success. Success may ultimately vary from one place or time to another; such is the nature of trying new approaches and learning from trial and error. One point is clear, however: the siloed, mono-line approaches of the past will not work. We need a more complete, integrated vision and ways of working that support such a vision. We also need ongoing learning and adaptation to emerging knowledge.