Connecting the Dots between Education, Health and Opportunity
Community investments in education, transportation, housing, and neighborhoods are closely linked to health, wellbeing, and opportunity—particularly for low-income families. One of these factors—education—matters more now than ever before. Education is a key focus of both Investing in What Works and the Education and Health Initiative—a project out of Virginia Commonwealth University's Center on Society and Health and the Robert Wood Johnson Foundation.
The return on investments in education can be substantial if communities invest not only in high-quality schools, but also in creating an environment that improves educational outcomes. Community investments can improve job opportunities and the economic wellbeing of families, reduce crime, alleviate stress, encourage academic success, and create neighborhoods that promote healthy living. The collective impact can improve children's health and development and put them on a path for success in school and later in life.
The reverse is true in neglected communities. In low-income neighborhoods that face greater concentrations of poverty, children are increasingly attending under-resourced schools. The school systems' primary source of revenue—property taxes—is often inadequate to fund strong programs and the best teachers. The inferior learning environments in these schools limit students' prospects for obtaining a quality education, and they also reduce the chances that these children will lead healthy, productive lives.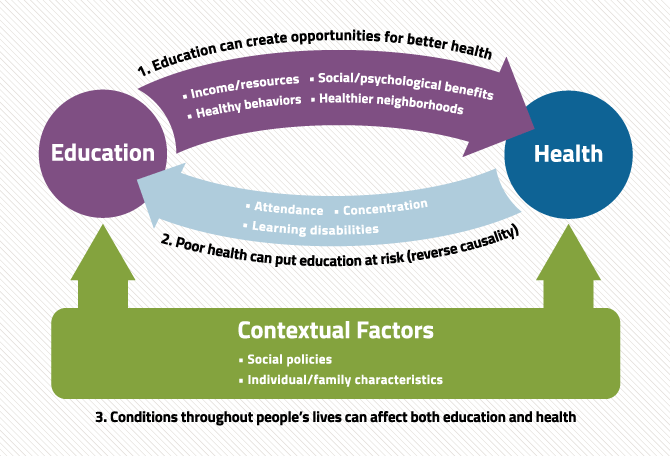 The VCU Center on Society and Health is working to raise awareness about these complex connections in its outreach to leaders in education, community development, and health and medicine in the hopes of helping them better understand the return on investment in education and how education and health are linked.
For example, more schooling does not automatically result in better health. Education is important for health because of what it gets you—important interpersonal skills and social networks that open doors for gainful employment; higher wages that allow for residence in safer neighborhoods with better access to green space, health services, and grocery stores; and the lowered stress levels that come with a safe, stable living environment.
At the same time, environmental factors influence the education-health relationship in multiple ways—not only do school, home, and neighborhood conditions affect a child's learning opportunities and ability to perform in class, poor health resulting from an unhealthy environment can also interfere with education.
Our latest work couples those findings with firsthand perspectives from residents of a disadvantaged urban community in Richmond, Virginia. These community residents are members of Engaging Richmond, a community-academic partnership between East End residents and Virginia Commonwealth University. As members of this partnership, residents serve as co-investigators in community-led research initiatives and help shed light on how connections between social factors and health play out in their neighborhood.
As Albert Walker explains, "Poor neighborhoods oftentimes have poor schools, and these poor schools oftentimes lead to poor educational outcomes, and these poor educational outcomes oftentimes lead to poor jobs, and these poor jobs put you right back into these poor neighborhoods."
Education is an important tool for breaking the cycle of poverty—but the greatest gains will result from investments in neighborhood and community conditions that put children on the path to success in school, work, and achieving better health.

By Steven H. Woolf, MD, MPH
Director, VCU Center on Society and Health