How Health Impact Assessments Can Inform Healthy Developments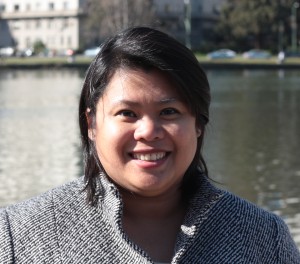 By Pilar Lorenzana-Campo, MEP, senior planner and program director for planning and development at ChangeLab Solutions. Pilar develops innovative and practical solutions around access to transit, affordable housing, opportunities for play and recreation, and nutrition. Follow ChangeLab Solutions on Twitter @ChangeLabWorks.
Many local government agencies run on separate but parallel tracks: people who are funded to work on public health operate in a completely different universe from the people who are funded to work on transit issues. The same goes for those working on education, workforce development, climate change planning, affordable housing and more. Policies on all of these fronts have major implications for our health – but government agencies are rarely set up to assess these through a lens that brings health considerations into view.
That's changing here in Oakland, where community advocates are using local data to show how policies like public transit, affordable housing, and job creation have everything to do with health.
In 2010, city officials, residents, and health advocates embarked on a project to create a transit-oriented development around the Lake Merritt Bay Area Rapid Transit (BART) station. A group of six local community organizations decided to collaborate to ensure this planned revitalization effort addressed concerns around pedestrian safety and affordable housing. The collaborators—a mix of transit and environmental justice organizations, health services, and housing and economic development agencies—had an unusual, shared vision: to not just provide an economic boost to the area, but to do so while considering the health benefits and consequences of such a project.
They embraced the idea that just about all policies have an impact on our health. Good transit policy, complete streets, affordable homes, job creation – they're all health policy issues, and making that connection is key to creating more sustainable communities that offer a comprehensive set of resources for everyone.
The project team focused on these key areas:
Transportation;
Housing;
Economic development;
Parks; and
Public safety.
They looked at the community's priorities in each of the areas, and used a health impact assessment (HIA), which is a tool for analyzing the potential health effects of a proposed project or policy. HIAs ensure health benefits and consequences are considered for any community changes that fall outside of the traditional scope of public health, such as transportation and housing.
How the HIA informed the process
Each stakeholder involved in the Lake Merritt BART project had different priorities — from transit access to affordable housing. The process of conducting the HIA allowed everyone involved to see their key issue connected, in some way, to the community's health.
Over the course of a series of monthly meetings, the organizations involved developed a deep understanding of how connected health and transit-oriented development can be. The HIA analysis provided important feedback that helped shape the eventual agreement on how to move forward on particular policy issues.
For example, the HIA analysis led to more meaningful park space included in the plan. The original concept for the area's redevelopment increased how much park space would be available in the neighborhood, but did so by creating spaces that were either ineffective or totally inaccessible to the general public. Later versions of the plan included much more meaningful park space — though we believe more could still be included to truly meet the needs of the community.
The HIA analysis also confirmed that the plan's improvements to pedestrian and bike safety, including one-way conversions, crosswalks, bulb-outs, and bike lanes, would improve conditions for walking and cycling. This was a major issue the stakeholders wanted to address.
Though the HIA itself was complete in June 2012, the city planning process for the Lake Merritt Station Area Plan continues to this day. The city is currently evaluating proposed amendments to the zoning ordinance and general plan that governs the neighborhood, with an anticipated goal of adopting a final plan by December.
Everyone contributes to healthier neighborhoods
Affordable housing, education, public transit, job creation — they're all health policy issues. By putting that understanding into practice, we can build not only a healthier neighborhood near the Lake Merritt BART station, but a new model for cities nationwide.