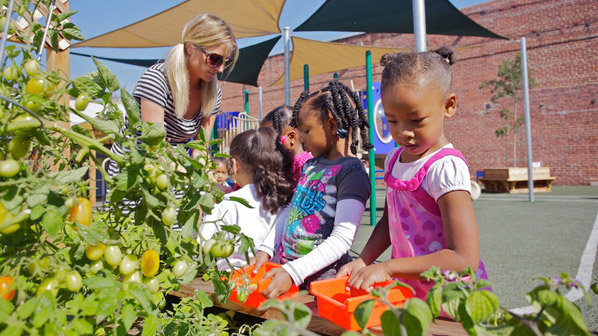 The Great Recession forced families and communities to confront the worst economic collapse most of us had seen in our lifetimes. When President Obama took office, the economy was shedding 750,000 jobs per month, and foreclosures were rising to record levels. Since then, the economy has added over 4.5 million jobs, and the jobless rate has fallen—but work remains to repair the damage caused by the economic crisis.
As others in this book have noted, the shock of the economic crisis compounded a longer-term trend toward growing inequality and, over the last decade, higher poverty. As a result of the economic divergence since 1980, real median household income has grown four times faster for the top 10 percent of households as it has for middle-income households, making it harder for families to afford housing, transportation, health care, energy, and college.
The effects of the crisis were most severe for low-income Americans: 22 percent of all children in the United States are poor, and more than 10 million people now live in high-poverty neighborhoods. Poverty and social isolation not only make it hard for these individuals to succeed, but also affect the welfare of our country, and our economy, as a whole.
Recognizing these challenges, the Obama administration has adopted a multifaceted approach to reducing poverty and promoting opportunity in order to ensure that all Americans have the ability to reach their full potential. In addition to implementing broad efforts to improve job growth, this approach has focused on reducing immediate hardship owing to the recession while at the same time putting in place longer-term strategies to reduce poverty and put the American Dream in reach for all Americans.
THE IMPACT OF THE GREAT RECESSION
The Great Recession caused many middle-class families to confront unemployment and economic hardship, and even fall into poverty. Millions more families were struggling long before the recession began, and found themselves falling further after the recession took hold. The effects of the recession drove the typical (or median) household income to its lowest level since 1996, with the poverty rate increasing to 15.1 percent in 2010, with 46.2 million Americans living in poverty, which for a three-person family means earning less than $18,530 per year. Over 50 million more Americans are on the edge of poverty.
The poverty rate is highest among children, with nearly 16 million children growing up below the poverty line. More than 30 percent of minority children today live in poverty. And almost half of American children who are born to parents on the bottom rung of the income ladder remain at the bottom as adults. These children tend not to have the range of opportunities that have long characterized the American experience. For example, the aggregate impact of child poverty in the United States leads to reduced skills development and economic productivity, increased crime, and poorer health, all of which is conservatively estimated by recent research to cost the United States more than $620 billion per year.1
That one in five children in the richest nation in the world should live in poverty is a moral failing. But it also compromises our country's ability to compete in a global economy. A 22 percent poverty rate among our children not only costs Americans 5 percent of gross domestic product (GDP) every year, but it also sidelines huge pockets of untapped talent, creating barriers to the educational opportunities and skills development all children need to join an American economy built to last.
The impact of poverty is severe wherever it is felt but even as the spatial distribution of poverty changes, with higher increases in suburban communities, we recognize that its impact is particularly acute in America's highest-poverty neighborhoods, where poverty often spans generations. More than 10 million people live with the problems of concentrated neighborhood poverty—high unemployment rates, rampant crime, health disparities, inadequate early care and education, struggling schools, and disinvestment—up from 2.8 percent of the population in 2000 to 3.5 percent of the population in 2005–2009. This tells us that when it comes to addressing poverty in America, place matters. And locally based community developers are at the heart of an evolution in building the infrastructure necessary to provide support to families experiencing poverty, whether in suburbs first confronting these challenges or neighborhoods beset by distress over decades.2
As community developers have long recognized, the problems that contribute to poverty are very much interconnected. While poverty cannot be explained as merely a consequence of housing, education, and health, each poses unique challenges to low-income families at the community level—and none can be understood independently of one another.
THE WAY FORWARD
Since his first day in office, President Obama has taken important steps to combat the worst impacts of the economic crisis while putting in place long-term policy reforms to make sure everyone has a shot at the American Dream. For example, the American Reinvestment and Recovery Act (Recovery Act) kept nearly 7 million Americans out of poverty, and poverty was lessened for 32 million more in 2010 alone. Several of the administration's policies in the Recovery Act helped low-income Americans by providing tax relief and assistance with basic needs such as keeping food on the table, accessing health care, and maintaining a roof over families' heads. Well-timed and targeted tax credits, which included modest expansions in the Earned Income Tax Credit and Child Tax Credit as well as a Making Work Pay tax credit that offset payroll taxes, helped keep more than 3 million Americans, mostly those in families with children, out of poverty.3 These tax credits, particularly the Making Work Pay credit, also reached middle-class families, providing help to those families and buttressing our economy. Modest expansions and further outreach for Supplemental Nutrition Assistance Program (SNAP) benefits kept many families out of poverty and meant there was no increase in child hunger or food insecurity despite the severe economic downturn.
Indeed, during the past three years, the Obama administration has worked hard to put Americans back to work while building a foundation to address poverty and create ladders of opportunity for all Americans. The $7 billion invested through the Neighborhood Stabilization Program not only fought decline and blight in hard-hit communities, but it is also on track to create 90,000 jobs in the places that need them most.4 More than 400,000 education-related jobs were created or saved by investments in the Recovery Act, ensuring that teachers remained in classrooms and children continued learning.5 Through the Recovery Act, the Obama administration invested in summer and year-round jobs for disadvantaged youth, which placed more than 367,000 young people in jobs.6 In addition, investments in the Recovery Act placed more than 260,000 low-income individuals in subsidized jobs.7
Recognizing that education is a key to success, the Obama administration has made historic investments to ensure that all children enter school ready to learn and all Americans have access to a complete and competitive education, from cradle-to-career. Typically, educational failure clusters in communities of need. Lack of school readiness among the youngest children, chronically poor-performing elementary and secondary schools, and limited postsecondary completion compound and sustain intergenerational poverty. But integrated approaches can overcome these persistent challenges. Many of the lowest-achieving schools targeted for improvement under Race to the Top, an Obama administration competition to encourage and reward states that are creating the conditions for innovation and reform, are located in communities where local leaders are pursuing a range of neighborhood revitalization initiatives. So are many of the lowest-achieving schools targeted for significant reforms through School Improvement Grants that support their turnaround. In addition, our investments in improving access to high-quality early education have created opportunities for program alignment and the ability for community developers to leverage improvements in educational opportunity, as the administration has expanded Head Start, invested in efforts to expand evidence- based teaching methods, and required programs that do not meet quality benchmarks to compete against others for continued Head Start funding.
The Obama administration's new direction also includes efforts to improve health and health care. When families lack health insurance, they not only face limited access to care, but also a far greater risk of getting sick and incurring a mountain of health care bills that can lead to financial ruin. The Affordable Care Act will expand health insurance coverage to more than 30 million Americans. Many of those Americans have incomes well below the poverty line or that hover just above it but who remain ineligible for Medicaid today. Coverage means both access to care and protection against the financial risk that can come with illness. Access to affordable coverage is also critical to staying healthy and productive.
The Department of Health and Human Services is working closely with community groups and states to identify those neighborhoods and areas with the highest rates of uninsured individuals to help guarantee that the Affordable Care Act brings insurance coverage to those places with populations most in need. In addition to improving coverage, we have added to the health infrastructure in the most underserved areas. With investments made possible by the Recovery Act, more than 2,800 grants were awarded to health centers for construction, renovation, new equipment, and the implementation of health information technology; and 127 new health center sites were created, providing comprehensive, quality primary health care services to medically underserved communities and vulnerable populations with limited access to health care. The Affordable Care Act has continued this effort with almost 600 capital projects and the creation of nearly 300 new service delivery sites. Health centers' expansion into high-poverty neighborhoods recognizes these communities lack access to even basic preventive care, and it will change the mix of supports available to residents, providing an opportunity for coordination for developers serving high-need residents.
Under the President's leadership, the Obama administration has focused on expanding access to opportunity for all Americans. This focus has been accompanied by a new approach to governing, one that seeks to unlock individual and collective potential; that rewards results, evidence, and best practices over ideology; that puts people and places over programs; that rewards work and supports skill building; and that leverages the power unleashed when we join forces across all sectors—government, business, and nonprofits, both community-based and national—recognizing we are strongest when we work together.
The uniquely people- and place-based nature of the challenge of poverty in America requires people-based and place-based responses to expand access to opportunity. It is not enough to focus only on economic circumstances of individual families; we must also be clear-eyed about the opportunities and stressors that surround them where they live.
While we've discussed many of the Obama administration's most powerful efforts to expand opportunity in families' lives, the remainder of this chapter focuses on the place-based aspects of the Obama administration's larger strategies. To successfully revitalize high-poverty neighborhoods, change the trajectories of kids in those neighborhoods, and compete in the twenty-first century economy, we must follow the example that innovative local actors have set across the country—solving housing, education, safety, workforce, and health challenges concurrently, in partnerships built across government, business, and nonprofit sectors.
FOCUS ON PLACE-BASED STRATEGIES TO BUILD STRONG COMMUNITIES
As the first president to have worked in public housing, President Obama understands the need for this approach. The President is deeply familiar with how poverty connects to every aspect of a family's life and a neighborhood's success, as well as the innovations our community developers have forged to fight poverty and community distress. The President knows fighting poverty requires flexibility, adaptability, and above all, a comprehensive focus. That is why, in describing the Harlem Children's Zone, he noted that we need an "all-encompassing, all hands on deck" approach.
That's also why our three agencies have worked with one another and partners throughout state and local governments, businesses, and the community development field to attack poverty comprehensively—in the President's words, recognizing that "we cannot treat symptoms in isolation."
This shift may have been new for the federal government, but not for the "third sector" of nonprofits and philanthropies in the community development field, which long ago recognized that embracing educational, health, and other perspectives was critical to successful housing and to reducing concentrated poverty. Long before President Obama took office, community developers had recognized that rebuilding educational opportunities for children trapped in neighborhoods of concentrated poverty was just as important as rebuilding the neighborhoods themselves. They had seen how reducing homelessness was inextricably tied to our ability to provide behavioral health and other wrap-around services. And they understood that when the government does not act alone, but as a leader among private and nonprofit partners, these goals become achievable.
To take the innovative solutions developed at the neighborhood level across the entire country, we have focused on five fundamental principles:
Do what works. We have identified innovative policies that improve economic mobility, considered new ideas with a strong theoretical base, and scaled up promising approaches that have begun to show good evidence.
Use a clear set of measurable results. Successful community development requires a focus on a clear set of measurable results for children, families, and communities. Results allow stakeholders within and outside the administration to orient around common goals. A core set of desired results not only provides stakeholders with information about whether the discrete programs are making a difference, but also makes policymakers (and public and private funders) more willing to align with and invest in them.
Use existing resources more efficiently and effectively. At a moment when taxpayer resources are scarce at federal, state and local levels, we must focus on using our resources as effectively as possible based on the best available evidence. We must closely examine what works, being willing to challenge existing orthodoxy. That requires a reinvigorated research agenda that evaluates programs rigorously and provides evidence to facilitate continuous improvement.
Coordinate across partners. A comprehensive approach to transforming communities requires a strong partnership that includes the federal government, state and local government, and private and nonprofit partners. That includes improving government capital efficiency by leveraging private capital to maximize impact, reducing risk through credit enhancement, and creating conditions—in neighborhoods and regions—that are attractive for private capital investment.
Focus on people and places. In order to address barriers that arise from individual life circumstances as well as neighbor- hood and regional environments, efforts must be both people-based and place-based. This cannot be an "either/or" proposition; successful pursuit of this agenda demands a dual-track approach with complementary and mutually reinforcing efforts. This work must be centered on people-based policies and programs that increase economic mobility and break intergenerational cycles of poverty, including macro-level policies that ensure future economic growth is accompanied by real increases in wages and median incomes, as well as micro-level policies to support healthy child development, academic success, skills development, economic stability, geographic mobility, and work. They also must promote responsibility—to emphasize the importance of graduating from high school, making responsible parenting choices, and seeking and maintaining full-time work. And they must incorporate place-based access to opportunity, and counteract the place effects of concentrated poverty.
This approach is woven into three major administration place-based initiatives, each of which signals the direction that federal, state, and local governments can pursue to work as better partners across the community development sector, and build the foundation of America's twenty-first century economy.